My Menopause Blog: Body Types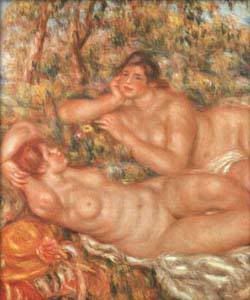 The Great Bathers (The Nymphs) 1919
Painter: Augusta Renoir
Less than 90 year's ago, these women were deemed voluptuously beautiful. The ideal body image of the times involved flesh, love handles and rolls of womanliness.
Did our body image ideals change because people were concerned about women's health? Or does motivating the female population to chase the skinny mini, big breasted body type so coveted by today's society, generate more money making opportunities in the marketplace?
Sue Richards
Other Links and Blogs of mine. That maybe even of interest to you....I'm just sayin.
Breast of Canada Calendar
Calendar Girl Blog
The Breast Views Blog